16 of The Hub Pharmacy sites in the North of England are offered for sale
Specialist business property adviser, Christie & Co, has brought to market 16 pharmacies on behalf of The Hub Pharmacy, all of which are located across the North of England.
The Hub Pharmacy Ltd was established in 2015 via a management buyout of MedicX Pharmacy Ltd with funding support from Bridges Fund Management. The vision was to create a Northern-based pharmacy chain that provides patient-centred pharmaceutical care in a community setting via a range of specialist, high-quality professional services delivered by expert teams. Operating in local communities, the estate represents a portfolio of accessible 'Hub' pharmacies for patients to access.
Starting from a core of nine pharmacies, the group has grown through a combination of single and group acquisitions to its current portfolio size, with pharmacies located in clusters across Warrington, Halifax, Rochdale, and Greater Manchester. All either sit within health centres or are close to GP surgeries and offer significant potential for growth.
All of the pharmacies perform strongly with over 60% of the estate achieving dispensing volumes significantly ahead of the industry average in England.
Financial director at The Hub Pharmacy, Andrew Butterworth, comments, "We established the business in 2015, starting from just nine sites. Six years later, we have created a portfolio of pharmacies with potential for further growth and are proud to be serving our local communities across the North of England. In bringing the pharmacies to market, we are looking for buyers to continue the development of the pharmacies, all of which provide excellent opportunity for growth."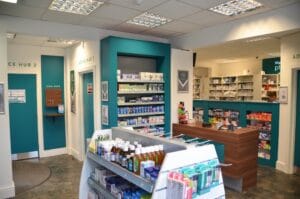 Tony Evans, Head of Pharmacy at Christie & Co, who is handling the sale, comments, "We are excited to have been instructed to offer 16 of The Hub's pharmacies for sale. Occupying either health centre, health centre adjacent or prominent community positions, the pharmacies are part of one of the highest quality and well invested pharmacy estates in England and offer prospective purchasers the opportunity to acquire corporate-style pharmacies rarely available in the marketplace. With interest invited on a group, subgroup, or individual basis, we expect to generate early interest from independent contractors and multiple operators alike."
Interest is invited on a group, subgroup or individual basis with most being sold by way of asset sales.