6 steps to consider before bringing your international business to the UK
Are you considering bringing your international business to the UK? Here are 6 things you should consider first…
Choosing to move or expand your business internationally can bring many challenges and benefits to your business. You may see a move to the UK market as an unmissable opportunity and indeed there are many advantages to be had. Some of these include the fact the UK is a hub for investment centres, there is a pool of highly skilled workers to add to your ranks, and you gain access to all four regions of the UK.
That said, to be successful and effectively face down your competitors, you need to consider all factors and be prepared for anything. For example you should consider applying for a Global Business Mobility Visa, preparing your international business plan, looking at UK regulations that will affect you, and more.
Have a look at the following six steps before you bring your international business to the UK…
1.   Global Business Mobility Visa
The Global Business Mobility Visa was designed to help overseas businesses to put down roots in the UK. Coming into effect on 11 April 2022, this visa allows overseas businesses to transfer staff for business purposes and establish a presence in the UK.
There are five different types of the Global Business Mobility visa, including:
Senior or Specialist Worker
Graduate Trainee
Secondment Worker
Service Supplier
UK Expansion Worker
These categories cater to the different level of skill and needs of the applicants/business. The Senior or Specialist Worker and Graduate Trainee visas are suitable for businesses that already have a UK presence, whereas Service Supplier and UK Expansion Worker visas are a better option for businesses who are not trading in the UK.
However, if your business is working with UK firms and has high value investments or contracts, you would require the Secondment Worker visa. Despite their differences, each of these options will require a sponsorship from an existing UK business.
2.   Business preparation – how much will it cost?
Moving your business abroad involves many moving parts and can easily become overwhelming. Because of this, it's crucial that you build a solid business plan detailing every aspect of your move to the UK, for example:
How much will this cost your business?
Do you need to find new suppliers in the UK?
How will you navigate the UK tax system?
Answering these questions, and many others like them, is a good way to establish the benefits of bringing your international business to the UK and how much time and money it will cost you to do so.
It's natural for your plans to change as you adapt to each new hurdle but, with an effective business plan, you will gain a better understanding of individual challenges you will face and how you can prepare for them. You should also use this plan to set out clear goals and objectives in order to track your future progression.
3.   Identify the UK's regulations that will apply to your business
One of the most important things to consider when moving to a different country are changes in regulations. It can be confusing and surprising to find that there are restrictions in places that you would not normally expect.
Changes in regulations can affect every part of your business, from production to delivery, and recruitment to management. This sometimes means that you will need to completely re-develop the way you produce a product or handle a business crisis.
To best understand what regulations will affect you, take a look at the UK's government business and industry guidelines.
4.   Understand the UK tax system
When it comes to the UK's tax system, it can take a long time to complete the many tax obligations. These obligations may include everything from your company's environmental impact to sales tax.
Because the UKs tax system is notoriously difficult to navigate, it is highly recommended that you contact a specialist to help ensure you are making the correct decisions. Hiring a professional or a business that can help manage your taxes within the UK is the best way to avoid potentially costly errors, and keep your business transition running smoothly.
5.   Find and establish relationships with new suppliers
Sometimes, it's not possible to use your current suppliers overseas, and finding and establishing relationships with new suppliers can be challenging. This may be because of several reasons, for example:
You may not know who you can trust in the new market
There might be a language barrier that hinders communication
It may be challenging to know where you should look for suppliers
Here are some tips to overcoming these challenges to forge new relationships:
Overcoming a language barrier when looking for new suppliers
It's important that you consider any language barriers that might be hindering productivity or causing misunderstandings. Some options you can consider when looking to overcome a language barrier in business include:
Translate important documents using online translation tools like Linguee MemoQ or ADL Trados Studio.
Hire a professional translator to help prevent miscommunication.
Use free online tools like Google Translate to reduce the impact of the language barrier.
Implement more visual forms of communication, like signs, visual aids, graphs, and pictures to make a message clear.
Finding trustworthy suppliers
When bringing your business to the UK, we recommend using government approved suppliers to ensure you are only working with trustworthy companies. To find these suppliers, you can use 'Buy from the UK'; a handy search tool on the government website that allows you to search for reliable suppliers in your industry.
Other methods of finding a supplier you can trust in the UK include tools like Checkatrade allowing you to find and connect with local suppliers
6. Completing market research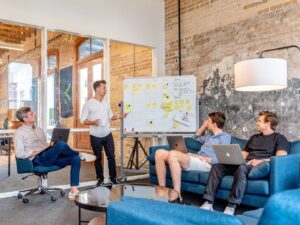 When expanding your business to the UK, you should complete thorough market research. This will help you identify any changes in market trends within the UK, and effectively maintain a competitive edge against your competitors.
Market research can also allow you to see the amount of business opportunity available so you can capitalise on it. During your market research, ask yourself:
Has your product/service been done before and by who?
Do you understand your target buyer's wants and needs?
How does this market differ from what you're used to?
By doing so, you are much more likely to find success within your expansion to the UK.
Ready to bring your international business to the UK?
Bringing your business to the UK is not a process that should be rushed. Plan out your move, research appropriate visas, and ensure you know enough about the UK's laws and regulations to avoid any nasty surprises in the future.
Please be advised that this article is for general informational purposes only. Be sure to consult a legal advisor if you are considering bringing your international business to the UK. We are not liable for risks or issues associated with using or acting upon the information on this site.