7 in 10 business account holders have never switched business bank providers
7 in 10 (72%) UK business owners and directors have never switched business bank accounts before, according to a new report from personal finance comparison site, finder.com. Furthermore, 64% of business account holders don't intend to switch in the next 12 months.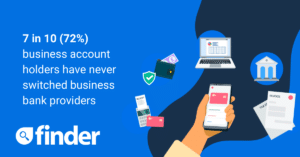 Interestingly, 3 in 5 (60%) business account holders have their business account with the same provider as their primary personal account. This is particularly unusual as, in comparison, 61% of Brits have switched their individual personal accounts last year according to our digital banking adoption survey back in January.
However, attitudes in the business banking sector may start to change as 36% of business bank users intend to change providers within the next 12 months. This includes 29% of business account holders who have never switched before but intend to this year.
Challenger banks have the highest satisfaction for business banking 
Despite the lack of business account holders who have ever switched banks, challenger banks have a significantly higher customer satisfaction score, with 88% of their customers saying they are satisfied or very satisfied with them. This is in comparison to three quarters (76%) of users of traditional bank providers. Full customer satisfaction results in our 2022 league table.
Online banking is a major priority for business owners
A significant 75% of business account holders have selected online banking as the most important feature needed when considering a business bank account. This is closely followed by mobile app banking (73%) which indicates business banking users are favouring digital banking features above all.
Other priority features includes level of customer service (72%), cost of account transaction fees (71%) and cost of monthly account fees (70%)
At the bottom of the list, employers consider having an additional card for employees as the least important feature (50%) according to the survey results.
Author of the report and banking deputy editor at finder.com, Michelle Stevens, said: " "While historically, business owners and directors have seemed quite reluctant to switch providers, our findings indicate there is an appetite to switch bank accounts as business banking priorities shift towards digital-led features. In addition to our survey, our analysis of figures from Pay.UK shows that over the past 5 years (between 2017 to 2021) 207,500 small business bank account switches were made using the Current Account Switch Service (CASS).
"We could see a surge of business bank account switches to challenger banks if traditional banks don't keep up with the demand for sophisticated digital banking features."
To see the whitepaper research in full visit: www.finder.com/uk/business-banking#report