All About Children purchases reputable day nursery in Market Harborough
Specialist business property adviser, Christie & Co, has announced the sale of Progress House Day Nursery in the affluent Leicestershire town of Market Harborough.
Established over 20 years ago, Progress House is a family-run day nursery with an effective operating capacity for up to 80 children aged 0-4 years. The nursery operates from a thoughtfully converted and well-maintained semi-detached property which offers a homely, caring environment within spacious, well-resourced rooms. It has an excellent, long-standing local reputation, and benefits from strong links with the local community as a result.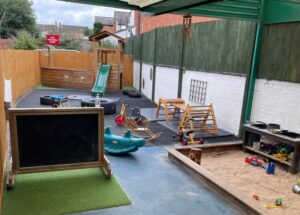 The setting was previously owned by Julian and Linda Peach who, after many successful years running the nursery, are now looking forward to their retirement.
Following a confidential sales process, the business has been purchased by national operator, All About Children. This marks the group's thirty-eighth setting.
Sinead Johnson, chief operating officer at All About Children, comments, "Progress House has a lovely, homely atmosphere, delivering high-quality care to local families and is a great addition to the All About Children group. We're excited to meet the team and work with them for many years to come, building on the exceptional reputation they already enjoy."
David Eaves, director – Childcare & Education at Christie & Co, who handled the sale, comments, "Progress House is a wonderful nursery at the heart of its community, and we were delighted to support Julian and Linda with their retirement plans. The nursery received immediate interest upon entering the market, with an offer accepted in just 10 days; this speaks volumes as to the level of demand amongst buyers for high-quality assets.
"As established group operators continue to expand out from their traditional geographical hubs, we anticipate increased demand all across the Midlands for both freehold and leasehold settings, creating tremendous opportunity for owners thinking of selling their nursery in the near future."
Progress House Day Nursery was sold for an undisclosed price.