Allica Bank – delivering on promises, delivering to SMEs
Strong lending growth continues throughout 2021 with the target of £500m in committed loan offers for 2021 expected to be exceeded – driven by a positive mix of unprecedented demand from brokers, as well as encouraging early take-up of its new direct-to-customer offering – against a backdrop of increasing confidence among SMEs

I

ntroduction of new products and services in Allica's lending portfolio, together with Allica's entry into Scotland and the healthcare market, further establishes its position as the breakthrough challenger bank for Britain's established SMEs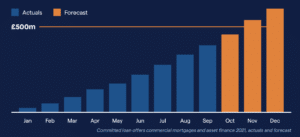 Chief executive of Allica Bank, Richard Davies, commented:  "The year to date has seen Allica deliver an outstandingly strong performance in supporting Britain's entrepreneurs and established SMEs throughout the continuing challenging environment.  
"We have seen impressive growth across our lending products with a significant increase in SMEs choosing Allica as their lender of choice. We're expecting to exceed our target of £500m in committed loan offers in 2021. The investment we have made developing our relationships with SMEs and our brokers is proving highly successful, together with the ongoing programme of digital and operational efficiencies.  
"Our drive and focus on helping SMEs to access the finance they need to strengthen and scale their business continues at pace, not least with the extension of our maximum loan size, our recent entry into Scotland and launch of our Healthcare sector offering. 
"Looking ahead, we will continue to leverage our excellent technology capability alongside unsurpassed personal service to further cement our position as the leading SME challenger bank for the decade ahead.  We are excited about our innovative and ambitious roadmap, including the upcoming launch of our Business Rewards Account which will shortly move into customer beta.   
"We are particularly encouraged by emerging trends we are seeing in the SME market, including increasing signs of confidence to accelerate growth in their business – even amongst those sectors hardest hit such as the leisure and licensed industries – and brokers responding to this with the expansion of their lending panels to explore alternative lending solutions. 
 "With over £0.6bn of committed loans already extended to SMEs since we first opened our doors in March 2020, we remain laser focused on growing this to multiple billions over the coming years as we seek to support the underserved and overlooked SMEs across the UK."