Allica Bank supports family-run worktops retailer to purchase £8.5m premises
A multi-million-pound commercial mortgage from Allica Bank has enabled Tron Worktops – which trades online as House of Worktops – to purchase a new company headquarters as part of its plans for major expansion.
Confirming Allica's commitment to supporting established manufacturing SMEs, the £5.3m commercial mortgage is being used to acquire a new, larger £8.5m facility in Enfield, North London. It will enable the business owners to deliver the next stage of Tron Worktops' growth and allow it to meet the increasing demand for its wood worktops and newly launched wood flooring solutions.
Tron Worktops is a family-run business and is the only end-to-end worktop producer in the UK, importing its premium timber from the Balkans and then producing and delivering bespoke worktops and flooring products directly to its UK customers.
The business has experienced significant growth since it started trading from its current St Albans base in 2019. The move to new premises, secured with Allica's support, is part of an aggressive expansion drive which will give the business significantly more warehouse and order fulfilment space for its products. This will allow it to increase its newly launched wood flooring range and also grow its builders' merchants channel, which currently accounts for 40% of its revenue.
Michael Mann, senior business development manager at Allica Bank, says Allica is proud to support such an established family-run business: "The management's resilience and creativity have seen them achieve astonishing results in a challenging economic environment, and it's people and businesses like this that will be key in the UK's economic recovery in the months and years ahead.
"This deal highlights Allica's expertise in supporting established businesses and our commitment to delivering expert regional support. We are proud to be working with Tron Worktops and we look forward to working closely with Mert, Murat and their team to help achieve their next stage of growth."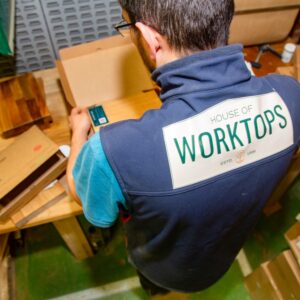 Mert Yashar, who owns and runs Tron Worktops in partnership with his brother, Murat Yashar, said: "It's fantastic to secure the ongoing growth of Tron Worktops by purchasing our new Enfield premises. The business has gone from strength-to-strength over the past couple of years, and this extra capacity will allow us to take advantage of some exciting opportunities for expansion as we invest in new product areas and channels.
"Allica Bank was the perfect lender to help us with this expansion. They met with us and took the time to understand these opportunities and the strength of our business. They will be a fantastic partner to Tron Worktops as we continue to grow into the future."
Damian Cain, director​ at Complete FS, the specialist distributor who worked to find the funding partner for this purchase, said: "Allica Bank, and Michael Mann especially, were extremely supportive during the progress of this loan. Loans of this size are often seen as a barrier to some lenders, but we were delighted with the speed and integrity given by the bank. Importantly, deadlines were met and all involved were impressed with how the bank managed the process for this large loan."