Bespoke software advantages and disadvantages
Bespoke software creates immense possibilities for the company, but they come at a price. Are you wondering how it differs from off the shelf software and whether it will be suitable for your particular project? Check our insights!
Once the company decides to implement software for a particular purpose, it's time to pick its variant. Whether it's a content management platform, a virtual assistant, or a production monitoring system, they always have an option to go for an available option. Which one is a safer option? This everlasting dilemma – bespoke software vs. off the shelf – is not that easy to solve, since both solutions have pros and cons. Today we'll focus on the bespoke software, pointing out its benefits and clarifying whether it's a good choice in any case.
But before moving to the pros and cons, let's start from the very basics!
What is bespoke software?
Even if you haven't heard about bespoke before, you most likely know it under another name – custom software. Bespoke solutions are tailor-made, contrarily to the off-the shelf ones. That means that companies have much more influence over the way the software looks and works. They participate in its creation from scratch, having the final word when it comes to architecture, functionalities and integrations.
Bespoke software advantages
Custom solutions are perfect for the companies that value independence and put flexibility over cutting costs. What draws them the most? Here are some most appreciated benefits of such option:
100% compatibility with the company's needs and preferences
The truth is, off-the-shelf always means compromise, regardless of how much flexibility its provider declares. It has to be this way – otherwise such software wouldn't work for anybody. Choosing bespoke, the companies do not have to go for any compromise. It is them who decides how their app will look, work and develop with time.
High scalability
The companies that grow at a rapid pace may end up better with bespoke software, as they can design it from scratch in a very scalable way. Choosing modular architecture and frameworks for easy integration or going for microservices approach, they can easily adjust the software to the dynamically evolving needs of the company.
Independence from the provider
Working with a bespoke software means owning its source code. And that means nothing stops the company's developers (or the outsourced software house) from modifying it once there is such a need. But there is more to that.
With custom solutions, the companies are independent of the provider's decisions – updates, modifications of functionalities and integrations. This way, there is no risk that some module or a feature you use on a daily basis gets removed. Plus, as polish software house points out in their blog post, once the system breaks down, you can act right away instead of just waiting for your ticket to be solved with the hands tied.
Higher security
Using the bespoke software, you have a full control over all data within it, being its only administrator. In the case of off-the-shelf software in the cloud, you rely on the security standards of the provider. At the same time, since bespoke solutions are unique, they are a tough nut to crack for the hackers. Their limited accessibility within one company also elevates security.
Bespoke software disadvantages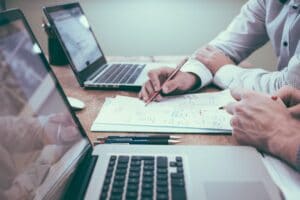 No solution is without flaws – and in the case of the bespoke software, the biggest one is definitely the cost. The off-the-shelf providers can develop the solution once and then sell it over and over, introducing changes from time to time. The custom software can be sold only once, as it's perfectly adjusted to the needs of one particular company. Thus, naturally, it's more expensive.
Another major disadvantage of custom software development is the time it takes to create such. The off-the-shelf solutions are available right away – you can just pay the shelf price or subscription fee and start using your app. With bespoke, it takes time – usually at least a few months – to come up with a basic version of the software.
As you can see, bespoke software has a lot of benefits, but it's not a perfect option for anyone. By organizing your priorities, you can figure out which option works better for you.