FRP Corporate Finance advises on sale of Norwich-based Proeon
FRP Corporate Finance has advised Norwich-based specialist industrial systems integrator Proeon Holdings (Proeon) on its sale to RSK Group (RSK).
Based at the Hethel Engineering Centre on the outskirts of the city, Proeon provides a range of safety, maintenance and cyber security services to the energy, manufacturing, and utility industries worldwide.
The business specialises in the design, manufacture and installation of a range of solutions, including fire detection, risk assessment, machinery safety processes and electrical and telecoms systems. Proeon also provides technical support and consultancy to its clients, which include nuclear and renewable energy providers, food and beverage manufacturers, and multinational chemical and pharmaceutical companies.
Established by co-founders Kevin Magee and Eddie Pond in 2003, Proeon has grown rapidly to date. The business is now one of the largest employers based at Hethel Engineering Centre, with a team of more than 50 specialist engineers and support staff.  Proeon partners with a range of suppliers to deliver its services, including Siemens, Dräger and Schneider Electric.
The sale will enable Proeon to continue to deliver on its growth plans under the continued leadership of its established management team, and provides RSK with an entry into the complex systems integration market. Financial details of the transaction are undisclosed.
Cheshire-headquartered RSK is a global leader in the delivery of sustainable solutions, and comprises a group of more than 150 environmental, engineering and technical services businesses.
The FRP Corporate Finance team – including Jon Dodge, James Cooper, Cameron Robertson, Ed Jones and Matt Field – acted as lead sell-side advisers. Mills & Reeve – including James Hunter, Louise Brownsey, Maddie Perrott and Camilla Highmoor provided legal advice to Proeon.
Kevin Magee, co-founder of Proeon, said: "Eddie and I originally founded Proeon from a small shed in Norfolk almost 20 years ago, with the vision to create a specialist control and safety systems engineering business. We're incredibly proud of the business' growth since, and to have built such a strong team of industry-leading specialists. It was critical that we found the perfect partner to take Proeon on to the next chapter of its growth journey and, in RSK, we have done just that."
Eddie Pond, co-founder of Proeon, added: "We've been working with the team at FRP Corporate Finance over a number of years to help to build the business and prepare it for sale, and to find a buyer that shared our values and ambitions for future growth. We'd like to thank the FRP Corporate Finance team for their support and expertise, and we look forward to watching Proeon go from strength-to-strength in the years to come."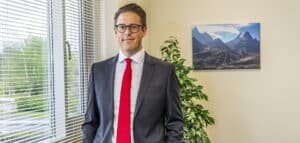 James Cooper, director at FRP Corporate Finance, said: "Proeon is a true pioneer, and plays an important part in supporting industries that are vital to our economy. The Proeon team has first-hand experience of entering new geographic locations and highly regulated industries. With its service offering synergies, RSK is in an excellent position to accelerate Proeon's growth. We're delighted to have helped the founders and the team secure a home for the business that can help it to scale in the years ahead."