Gorgie Dental Practice in Edinburgh sold through Christie & Co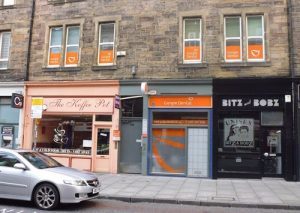 Gorgie Dental is a four-surgery, mixed-income dental practice which has been established for over 100 years. The selling Partners, Stephen Clark (manager) and Gareth Forde (principal), bought the practice in 2014, and in recent years they structured the business to be mainly Associate led – an appealing proposition for owners.
Commenting on the sale, Stephen and Gareth said, "We spoke with a number of selling agents before deciding on Christie & Co and we never regretted our decision. Paul's calm approach, professional insight and perseverance navigated the deal through an almost constant stream of challenges towards the sale of the company above the asking price. We are in no doubt that Christie & Co were instrumental in the sale succeeding."
The practice sits in a well-presented substantial freehold property in Gorgie, a popular residential and mixed commercial suburb approximately two miles west of Edinburgh City Centre. The property benefits from a prominent trading position on Gorgie Road, a busy thoroughfare and main arterial route to and from Edinburgh.
With regular bus services running from this area to the City Centre and beyond, the practice sees a regular healthy footfall and offers a full range of treatments from general family dentistry via the NHS to private and cosmetic treatments.
Paul Graham, head of dental at Christie & Co, who handled the sale, comments, "This is one of a number of deals we've successfully completed on during the current Covid-19 lockdown period. The deal was not without its challenges, but with the right methods we were able to overcome these. The offer level received, and the deal successfully completing during this difficult period, is a key indicator to the strength of the Scottish market. Stephen and Gareth were wonderful to work with and it is great to see a successful outcome achieved for them."
Gorgie Dental Practice was sold above asking price, for an undisclosed sum.