Guiding success: The essentials of luxury marketing agency strategies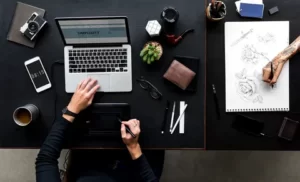 Luxury brands must navigate the ever-evolving landscape of marketing. This is where the expertise of luxury marketing agencies comes into play. A luxury marketing agency specializes in crafting bespoke strategies to elevate the brand experience and connect with the crème de la crème of clientele. 
This article delves into the intricacies of these agencies' essential strategies, uncovering unique insights and clever ideas that set them apart in marketing.
The luxury ecosystem
Before diving into the strategies employed by luxury marketing agencies, it's crucial to grasp the intricacies of the luxury ecosystem. Luxury transcends mere products; it's about creating a world where exclusivity and desire intertwine. A successful luxury marketing agency understands this distinction and immerses itself in the brand's ethos. 
For instance, when marketing a high-end Swiss watch, they don't just sell a timepiece; they sell the history, craftsmanship, and prestige of owning a piece of Swiss horological art. It's all about appealing to emotions and aspirations, not just features and functions.
1. Crafting unique brand narratives
Luxury marketing agencies excel at crafting unique brand narratives that resonate with the affluent audience. For example, the story behind the iconic Louis Vuitton monogram canvas, originating in travel and adventure, adds depth to the brand. It's not just a bag; it's a passport to a life of exploration.
 These agencies identify the brand's DNA, emphasizing its values, heritage, and lifestyle. They create a compelling story, often highlighting the craftsmanship and attention to detail that goes into every product, making the consumer feel part of an exclusive club.
2. Leveraging influencer partnerships
In the realm of luxury, who you associate with is paramount. Luxury marketing agencies are adept at identifying and partnering with influencers who embody the brand's essence. 
For instance, when promoting a high-end skincare line, collaborating with a renowned dermatologist or a celebrity with flawless skin becomes an integral part of the strategy. This lends credibility and aspirational value to the brand, making it more enticing to the target audience.
3. Personalization at its finest
Personalization isn't about adding a customer's name to an email. Luxury marketing agencies delve into the fine art of bespoke marketing. Imagine receiving a hand-written note from a luxury fashion brand's creative director and your purchase. This level of personalization elevates the customer experience to unprecedented heights.
It's about understanding the individual preferences of high-net-worth clients and tailoring marketing strategies accordingly, be it in the form of exclusive previews, personalized recommendations, or limited-edition products.
4. Immersive experiences and events
Luxury marketing is not confined to the digital realm. High-end consumers seek immersive experiences that go beyond the ordinary. Luxury marketing agencies organize exclusive events, like private fashion shows or curated art exhibitions. 
These events are meticulously planned to ensure every guest feels cherished. For instance, a luxury automotive brand might host a test-drive event at a prestigious golf club, allowing potential buyers to experience the thrill of their vehicles while indulging in a luxury day.
5. Storytelling through visuals
Visual content plays a pivotal role in luxury marketing. High-quality images and videos are not just assets but instruments of storytelling. Whether it's capturing a luxury watch's intricate details or a fashion model's graceful movements, the visuals must convey the brand's essence. 
Luxury marketing agencies employ top-notch photographers and videographers to ensure each frame tells a compelling story, evoking the viewer's emotions and desires.
6. Navigating the art of exclusivity
Exclusivity is the cornerstone of luxury marketing. It's not just about what you have; it's also about what others don't. Luxury marketing agencies create strategies that make clients feel part of a select circle.
For instance, a luxury real estate agency might market a prestigious penthouse by limiting viewings to serious buyers only, enhancing the aura of exclusivity and increasing demand.
7. Amplifying digital presence
While luxury is often associated with tradition, it doesn't mean luxury brands can ignore the digital landscape. Luxury marketing agencies masterfully blend the timeless charm of luxury with cutting-edge digital strategies. 
They create visually stunning websites and leverage social media platforms to maintain a consistent and compelling online presence. The art conveys luxury without losing the brand's essence in the digital realm.
8. Measuring success beyond sales
Success in luxury marketing goes beyond sales figures. Luxury marketing agencies recognize that building a brand's image and reputation is long-term. They focus on brand sentiment, social media engagement, and customer loyalty metrics. 
For instance, a luxury skincare brand may measure success through glowing customer testimonials, demonstrating that the product has become essential to their daily routine.
Final words
From the choice of words in a brand's tagline to the ambiance of a flagship store, these agencies leave no stone unturned in their quest to craft strategies that resonate with the elite. Their commitment to storytelling, personalization, exclusivity, and digital innovation sets them apart in an industry where perfection is not just a goal but an expectation. 
Luxury marketing agencies are the custodians of a world where excellence and aspiration meet, and they craft strategies that guide success along this illustrious path.