How to grow my business online
Introduction
The digital landscape has never been more promising or more competitive. The internet provides endless opportunities to take your business to the next level, from connecting with a global audience to optimizing operations. But the question on every entrepreneur's mind is, "How can I effectively grow my business online?" Well, you're in luck! This comprehensive guide will break down the essential steps you need to follow to ensure your online growth.
How to grow my business online
In today's ever-evolving digital landscape, it's imperative for businesses not only to adapt but to grow through online channels actively. The ubiquity of the internet has democratized access to global markets, but this comes with the caveat of increased competition. Companies that neglect to harness the full potential of digital platforms are at significant risk of lagging behind their competitors, who are more digitally agile. To stave off this risk and ensure a competitive edge, a comprehensive and multi-faceted growth strategy is non-negotiable. This isn't just about having a functional website or active social media accounts; it involves a well-crafted, holistic plan that synchronizes various elements like digital marketing, SEO optimization, content creation, and audience engagement. This integrated approach ensures that you are reaching your target demographics where they are most active and engaging them in ways that translate to measurable growth.
10 ways to grow your business
1. Define your unique niche
The first crucial step to differentiate your business in a saturated market involves defining your unique niche. This goes beyond just identifying what industry you're in; it requires an in-depth exploration of what sets your business apart from the competition. Are you solving a particular problem that others aren't addressing? Do you offer a unique blend of services? Or perhaps you cater to a specialized demographic? Whatever it is, this unique selling proposition should become the cornerstone of your business strategy. By tailoring your products or services to meet the distinct needs or challenges of a specific group, you can carve out your market segment and create a loyal customer base. Concentrating your efforts in a niche market allows you to focus your marketing, streamline your product development, and ultimately become an authority in a space that you can dominate.
2. Know your target audience
Understanding your target audience is an indispensable element for the success of any business venture. You need a multi-faceted approach to gain a thorough knowledge of who your customers are, what they want, and how they behave. Start by conducting customer surveys to directly gather opinions about your products, services, and what improvements they'd like to see. Utilize tools like Google Analytics to dig deeper into customer behavior and track metrics such as engagement rates, time spent on your site, and conversion rates. Don't just stop at the quantitative data; also analyze customer reviews and feedback to get qualitative insights into their preferences and pain points. These comprehensive methods allow you to tailor your business strategies to meet customer needs while maximizing your reach and impact.
3. Analyze your prices and competitor pricing
Understanding your pricing model and how it stacks up against competitors is critical for achieving online success. Start by conducting an in-depth market analysis, paying attention to the prices of similar products or services. Consider your production costs, operational overhead, and the profit margins you aim for. Don't just set and forget your prices; regularly revisit them to ensure they align with market trends, seasonal demand, and competitor strategies. Utilize tools like competitor price tracking software to keep an eye on the landscape and adjust your pricing strategies dynamically.

4. Build a user-friendly and converting website

Your website serves as your digital storefront and its effectiveness is paramount to your online success. It should be not only visually appealing but also easy to navigate. Prioritize fast load times by optimizing images and utilizing efficient coding practices, as slow websites can lead to a high bounce rate. Implement a smooth and intuitive checkout process to facilitate easy purchases. A/B testing can further help you understand what elements contribute to conversions, allowing you to optimize your site for the highest profitability.
5. Grow your business online through social media
Platforms such as Facebook, Instagram, and Twitter offer immense opportunities for business growth online. It's not just about posting regularly; it's about engaging with your audience. Video content is highly engaging and easily shareable, making it a powerful tool for expanding reach. Live streams can provide real-time interaction with your audience, fostering a sense of community and brand loyalty. Don't underestimate the value of social proof; customer testimonials and reviews can give your business credibility, encouraging more people to choose your product or service over competitors.

6. Use email marketing

Email marketing remains a cornerstone in customer engagement and retention despite the influx of numerous new digital marketing channels. Develop a carefully segmented email list to ensure your messages reach the right audience at the right time. Regularly send out newsletters that offer value, whether in the form of industry insights, tips, or exclusive offers and promotions. Employ tools like analytics and A/B testing to refine your email campaigns and monitor open rates and click-through rates to gauge the effectiveness of your content. This data-driven approach will enable you to tweak your strategies for maximum impact.
7. Use content marketing
Navigating the intricate landscape of content marketing can be challenging, but with wmlinks.net, it's easy to streamline your efforts and maximize your campaigns. The platform serves as a comprehensive hub for a multitude of marketing approaches. From securing valuable guest post spots on high-traffic websites to leveraging paid media for extending your content's reach, wmlinks.net has a range of features designed to supercharge your marketing game. The platform essentially becomes an extension of your team, providing the tools and opportunities you need to make your content not just visible, but highly impactful.
8. Organize live events
Live events, whether in the form of webinars or in-person gatherings, offer a powerful avenue for establishing robust partnerships and deepening customer engagement. These interactions allow you to go beyond digital communications and create an experiential bond with your audience. They present an opportunity for real-time Q&A, immediate feedback, and the ability to delve deeper into topics that interest your audience. Moreover, live events allow you to collaborate with other industry leaders, thus opening the door to future joint ventures and partnerships that can be mutually beneficial.
9. Join online communities
Being an active member of online communities pertinent to your business is not just about networking; it's a strategic move for business growth. These communities offer a treasure trove of insights into customer preferences, market trends, and competitor strategies. By regularly engaging in meaningful conversations, sharing expert advice, and asking open-ended questions, you not only establish your brand as a thought leader but also get the chance to understand your customers' pain points and needs more intimately. This direct interaction is invaluable in shaping your business offerings and strategies.
10. Measure and analyze your results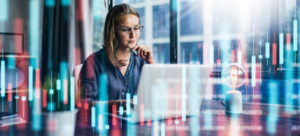 The cornerstone of any successful online business strategy is ongoing measurement and analysis. You're navigating in the dark without keeping a close eye on key performance indicators (KPIs). Utilize analytics tools to keep track of website traffic, conversion rates, customer engagement metrics, and sales performance. These data points provide a comprehensive view of what's working and needs adjustment. By continually analyzing these metrics, you can make data-driven decisions aligned with your business goals, ensuring your strategies are optimized for maximum impact and sales growth.
Scaling your business in the digital landscape is a complex but rewarding task that requires a well-rounded approach. This involves identifying your unique niche within the marketplace and deeply understanding who your target audience is and how best to reach them. It's equally critical to keep a close eye on your pricing strategy, ensure it's competitive yet profitable, and generate compelling, value-driven content that speaks to your audience's needs and challenges. This comprehensive guide gives you a robust set of actionable tips to nurture every aspect of your online business. When you apply these strategies with careful attention to detail, you can expect to see your online enterprise not just survive, but truly thrive.