How you can raise funds for your sports team
Running a sports club or team is like a business venture. It is not easy, especially considering the competition in the popular sports categories. The sports team must know how to sustain and support itself. Raising funds is an essential component of a sports team's survival and growth.
It is vital for you to have an approach that is interactive and sociable. Fundraising is a great way to get your entire team involved. It helps the players develop a close bond with one another. It also allows for friendly competition among players and creates a sense of joy in the community.
In this article, we will discuss the many ways you can raise funds for your sports team.
Some Great Ways to Raise Funds
Find a sponsor
Sponsorship between brands and athletes allows the athletes to focus on their training and develop good skills. Sponsorship actually benefits both the parties involved. For the brand, the association of its name with a sport not only gives great exposure but also helps create a sense of trust in people.
Team fans are more likely to use the products and services of such brands as well. When it comes to finding a sponsor, you need to make a clear case as to why the organization or person should sponsor you and provide them with a picture of how exactly it will benefit them as well. Sponsorship can give your team a major boost when it comes to exposure to the intended audience. It also gives you credibility.
Keep in mind that exposure by itself isn't enough. It is not merely about the numbers but, more importantly, reaching your target audience. When you approach a sponsor, be confident and professional. Let the relationship be equal right from the start and be sure to eliminate any power dynamics. After all, your team is likely to have skilled and talented players that can immensely help the brand.
Make sure to do your research and go for the right sponsor. It is important to have a proper agreement drafted where you and the sponsor agree on all the terms of the agreement in the same sense. Think long-term and go for contracts that span for several years. Avoid one-year contracts and don't quickly accept conditions that are unfavorable for your team.
Sell your team merchandise
This is one of the most popular and also one of the most profitable ventures in the world of sports. Selling your team merchandise to your fans is a great way to promote yourself. Famous sports teams usually sell wrist bands, jerseys, caps, hoodies, shoes, headbands and even water bottles and calendars with the team logos, slogans and sayings on them.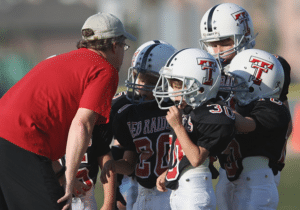 Make sure to sell high-quality merchandise and price them reasonably as well. It is a good idea to make your team players use the team merchandise when they are not on the field in order to create an appeal. It is important to be active on social media platforms and build an online presence.
You should also strongly consider opening an online store. Make sure that the website has a good design and functionality. It should have the ability to drive a good amount of traffic to it. Provide convenient payment options and make sure that your website is mobile-friendly as well. You can also consider opening a club shop.
Team merchandise is absolutely essential for creating brand awareness. It is important for your team to have a tradition and legacy. The performance of the players of your sports team can also make the merchandise high in demand, which in turn will help your team get more sponsors, and this will increase your team's performance.
It mainly helps to build the identity of your sports team and create a positive image of the team in the minds of the audience. Be sure to check out the merchandise of the top-performing sports teams in order to get a clear idea.
Put the skills of your sports team players to use
You should strongly consider providing coaching to interested people. You can even open a kids camp for the summer. These activities can be very beneficial for children in their formative years to inculcate good values and skills that can help them later on in life.
There is also the possibility of big organizations hiring you for their fun corporate activities. They host these activities in order to increase the relationship and productivity among their employees. These organizations are not only great contacts for you to make, but they also tend to pay incredibly well.
You can also rent your ground on a regular basis. You can even offer fitness classes or coaching for a variety of sports in which your team players are proficient in. People love to be coached by their favorite club players. It is a great way for the team players to express their love for the sport. This community participation can also bring your team plenty of visibility. You can even be trending on social media with these activities.
You can also host exhibitions where your team players can display their skills to the public. For instance, they can compete with a local team and have a friendly match. The ticket sales for events like these can be a great source of revenue and help the sports team sustain itself. You can even contact the local newspaper to get coverage for such events.
Sell discount cards to the public
This is a great and inexpensive way to raise funds and promote yourself. By going for this option, not only can you make a good amount of profit but you will also be able to support local businesses and restaurants. The places you partner with can help you in many other ways as well. For instance, local restaurants can help you by advertising your events.
Discount cards are a great way to advertise your team. You can include your team's name, the team colors, the logo and other useful information on these cards. There are many discount card fundraiser ideas for you to explore and choose from.
Focus on individual team members
It is obvious that without the players, there is no team. People remember teams only for the players and their performances. They love to find identification with their favorite players and empathize with their journey and struggles.
"Rent-an-athlete" is a great idea you can consider. It is where you basically allow the public to auction these players to receive private lessons, indulge in fun activities or even make the athletes perform common jobs. Many clubs also go for the "sponsor an athlete" route, where only individual athletes are sponsored, and all their costs are taken care of.
Start a crowdfunding campaign
Crowdfunding is becoming one of the most popular ways to raise funds for many business ventures and activities. In fact, people raise funds for all sorts of causes as well. There are many great online crowdfunding platforms like GoFundMe, Kickstarter, Indiegogo and LendingClub. You can also use online crowdfunding platforms made specifically for sports such as RallyMe, Sportfunder, MakeAChamp and Dreamfuel.
When you start a crowdfunding campaign, you will have to think about many elements in order to ensure the campaign's full success. You will have to make the crowd want to contribute to your team. For that, you will need to tell a good story about your team and show the crowd how passionate and dedicated your team is.
You should make team videos and photos in order to give the crowd a better idea of what kind of team they are funding. Hence, communication is absolutely key. You will also need to give the crowd something back, like printed jerseys, shoes, team badges, etc.
It is vital to go for the right platform that suits you and know all their guidelines properly. Your campaigning efforts must be consistent. You can consider starting small and beginning with your immediate social circle.
Even little contributions from many people can add up to a lot of money. If you become well versed with the basics of crowdfunding and learn to use proper strategies, you will be surprised at just how much money you can raise for your team. You can consider hiring a marketing consultant who can provide you with good crowdfunding strategies.
Host a fundraising event
You can consider calling for a team meeting and having a discussion about what the next fundraising event can look like. Listen to all the ideas that your players offer you, choose the ones you are sure will work and get started with them. This brainstorming activity develops the creative side of the players and makes them more enterprising and responsible as well.
There are countless great fundraising event ideas that you can consider. In fact, sports teams frequently hire fundraising experts who can help them get the best Baseball, Basketball and Football Fundraising Ideas and execute them effectively. These events can be highly entertaining and also serve as a social glue to keep the team members together and build a healthy sense of connection.
Competitions and challenges are excellent team building activities for the players. They will also find it to be a fun and relaxing activity and treat it as a break from their rigorous training sessions. These events tend to attract a lot of media attention, especially when a large number of people are gathered to see these team players.
Some common fundraising event ideas that sports team generally rely on are exhibition matches, parties, dance-offs, movie nights, quiz nights and trivia nights. Another fun option that players love to go for to raise money is a popular activity called "punish the coach". Players revel in making their coaches run and perform exercises. All these activities are done in a light-hearted manner and have proven to be very effective.
To sum up
These are just some of the many options that you can consider. Make sure to talk to a marketing consultant or a fundraising expert to get started. It is important to know your target audience well, play to your strengths and keep innovating as much as you can. It will help your sports team thrive and become successful.