It's time to drop the 'premium' label; Mondeo-class is now ruled by Merc C-Class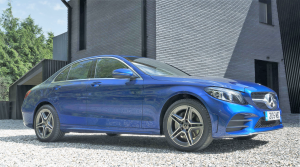 It does not take miraculous juggling of figures to see that the UK's medium sector is now dominated by the 'Teutonic Trinity', writes Iain Robertson, which begs the question, 'What the heck happened to Ford/Vauxhall's mainstream popularity?'.
To be fair to history, which seems to whistle past in a trice, it is over 20 years ago, when then PM Blair made ballot-box references to 'Mondeo-man', while discussing middle ground voters in The House. Yet, in the intervening period, instead of a visible rash of Sino-commercialism, there has been a risible expansion in mainstream automotive status. Whether selecting Insignia/Mondeo, Cavalier/Sierra, or Victor/Cortina consumer references in previous decades, it must irk a British politician to indicate Audi, BMW, or Merc instead.
Although Ford Motor Company seems 'happy' to 'buy' its UK new car market share, rather than also earning it by repute in the past, which makes it notionally 'the nation's best-selling brand' (even though it no longer produces cars here), it is more a case of clinging onto the wreckage and visiting Trump, with cap in hand, to bemoan its tailed-off business. Ford cannot live on its laurels alone, since its morals have been put to bed, along with cynically half-baked non-entities like the latest Mustang Mach-e and a plethora of US-built SUVs pandering to straw-suckers and rednecks.
Trying to uncover why Ford has lost the plot has its roots in the period prior to the madness of rival acquisitions in the early-1990s, when Mondeo was truly the mid-size market leader. The firm had already tinkered with its senior management, engaging expensively the services of prissy Germans more concerned with their hair, shirt and tie colours than the 'Blue Oval'. I shall name them: Herren Berndt Pischetsrieder and Wolfgang Reitzle. However, Jacques Nasser was their boss and when he 'left' Ford, he also took a hefty multi-million Dollars parting gift with him.
I can recall a most enjoyable luncheon in the company of William Clay Ford Jr. (great grandson of founder Henry Ford and Chairman of the company bearing the family name), during which I asked him to give me a payment of £1m, in return for which I would sack a key executive and save him almost £10m. It was a daring approach that caused the company's PR boss to splutter unapologetically and nervously over his post-prandial cup of coffee. Yet, Ford still paid-off Reitzle, only a few months later, to the tune of around £13m…I had underestimated his 'worth', clearly. By 2008, Ford's Premier Automotive Group (PAG) was no more. Ford was on a downwards spiral, from which it has never recovered, even with a bloke called Mullaly (former Boeing executive) now running the show.
Ford employs too many fat executives clinging onto equally portly pension plans that are set to mature too soon.
Before the end of the first decade of the 2000's, the German brands' threesome was already cutting a cute line into the enormous UK business car sector. The constant chipping away at Ford's and Vauxhall's former market shares was completed by the early part of the last decade. Not only the Audi A4 but also the BMW 3-Series shared this new business with the Mercedes-Benz C-Class, each of the brands outselling Mondeo individually. The Vauxhall Insignia, as good as it is, has never really had a look in.
What had been a perfectly acceptable 'mainstream', had been transformed into an 'Americanized' premium sector. The celebratory cards rep drove a Beemer. The biscuit rep an Audi. The medical rep a Merc. Mondeo had been surpassed and this does not even include the corporate car park, where status and an available space are coveted.
Even an entry-level C-Class possesses oodles of category-claiming class, from the instant the exterior door handle is grasped. It is an impressive experience slipping behind the steering wheel, with high levels of tactility and subtle 'bling' grabbing attention. Fortunately, Merc has dispensed with mildly agricultural engines driving through intransigent gearboxes. As a result, when the key is twisted in the steering lock barrel, the responses are refined and provide both a sense of purpose and superior levels of refinement, especially when the benefits are contrasted with the operative's former rudimentary wheels.
Ford made a last-ditch effort to turnaround its status, when it introduced the bling-laden Vignale option but it has been too little too late and has provided the 'Blue Oval's' Ford Direct (used car) network, with a plethora of lightly-used examples that are sold at knockdown prices. Merc wins on forecourt appeal, as well as beneath the glare of showroom Xenon and LED lighting.
Yet, it is not all brilliant news for the Stuttgart company. Although Merc can boast of strong sales in several markets around the world, making positive penetrative gains into a number of Far Eastern territories, much of its western business has slumped slightly, although its A- and C-Class models continue to perform well across the board. Intriguingly, Merc has been very careful to nurture its relationships with the company car sector, notably in the UK, and a new C-Class can be obtained for little more than a mid-range Mondeo on most contract hire and lease agreements, mainly due to holding better residuals than the equivalent Ford, or Vauxhall products, which plummet like a stone, as soon as the registration plates are applied. However, as Audi and BMW are now discovering, a plateau has been breached, by which too many examples have been pumped into our new car scene, which is starting to affect their second-hand valuations negatively.
In its domestic market, the new emissions and fuel economy figures have been launched for 2020, which target the bigger-engined, rowdier-exhausted variants, and each of the executive trio will be forced into paying hefty non-compliance fines in the very near future. Naturally, this will lead to list prices being bumped upwards, even though the consumer will benefit from significant increases in efficiency lower down the model ranges.
In the meantime, Merc is already ahead of the game with its mild-hybrid, full-hybrid and EV C-Class model developments and, while their price tags are already sky-high, a reputation for total dependability, modest maintenance costs and 'second owner' desirability will maintain brand momentum. Both Ford and Vauxhall need to face mainstream reality, after all, given the choice of a Merc, or a Mondeo, which would you choose, when your commitment is mostly Benefit-in-Kind related and every driver in Middle England suburbia would far prefer a 'Three-Pointed Star' than a 'Blue Oval' in their middle class driveways.
Do not feel sorry for Ford; it has earned its 'failed' status, not merely on the US Stock Exchange. Merc is motivated and has been girding its loins for the past 25 years, with the primary intention of being better than the rest.