La Barca is grilled to bits with £175k support from Santander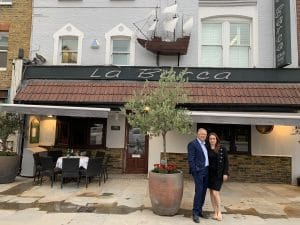 La Barca is an established Italian restaurant that has operated from the same premises in central London for over 40 years. The restaurant has an impressive list of regular diners ranging from high profile politicians, actors and TV and film directors as well as visitors, residents, and businesses. The restaurant closed in March in line with the government's guidance and is excited to be reopening this Wednesday 15 July.
Santander UK agreed a £175k CBILS support package with the funding supporting La Barca to invest in internal renovations to ensure social distancing can be adhered to. The funding will also help to equip colleagues with personal protective equipment (PPE) and fund marketing to help bring in new income streams. The restaurant has increased its outdoor seating capacity and introduced "fine dining" takeaway and catering services.
Tanya Davoli, part owner and director at La Barca, said: "With Santander's support we could invest in increasing outdoor seating for customers as well as training and safety equipment for our staff. Santander not only provided us with support to meet our financial obligations but assisted us in preparing the restaurant for the future, making the business safer, more competitive and attractive going forward."
Robert Riffkin, relationship director at Santander UK, commented: "We're delighted to be working with La Barca to provide vital funding so the business can adapt and get ready to reopen. Its many loyal customers will be happy to return for their fantastic food and improved take away and catering services."
Santander UK is hosting a series of free 'Survive and Revive' webinars for SMEs on how to bolster their business proposition. Covering a range of topics – from innovating effectively to aligning purpose and culture – our experts delve into some of the ways that businesses have adjusted, and thrived, since the outbreak of coronavirus. You can find these webinars and a list of other helpful resources at www.santanderbreakthrough.co.uk/coronavirus.