Macropay fight scams through tech
The COVID-19 pandemic and resultant lockdowns helped to accelerate digitalization. Unfortunately, this has also led to a rise in online scams and digital fraud. The truth is that digitalization is still in its infancy. With new discoveries like Web3 and the Metaverse digitalization is bound to grow. Global revenue from digital payments is predicted to surpass 2.5 trillion US dollars in 2025, with digital and mobile wallets expected to be the preferred payment method by 2024. For this reason, it's important to get expert insights into the best practices to adopt to fight scams. Macropay shares how it fights scams through technology.
What is Macropay
Macropay is a tech startup launched by Adam J Clarke in 2013. With no external funding, Macropay has grown from humble beginnings into a multi-million-euro startup pioneering open-banking and alternative payment methods in Europe and beyond. The fintech company provides businesses with custom financial infrastructure and technology to facilitate safe digital payments. Their technology covers core Europe local payment methods including some key open banking networks.
As a leading global local and alternative payment gateway, Macropay provides businesses with the tools to fight scams. The fintech company employs some of the best digital minds to keep one step ahead using cutting-edge technology and innovation.  Here are some of the strategies they employ to strengthen their core offering: a secure payment gateway.
The current tech landscape is fast evolving, with new technology rendering what is common practice obsolete overnight. With such rapid changes, digital security is integral for businesses wishing to ride the technology wave to fuel growth. Unfortunately, payment fraud and online scams still make digital transformation risky.
Proactive and prevention focused
Most cybersecurity solutions are detection focused, which means they pick up fraud or a security breach after it has occurred. Macropay, on the other hand, prefers to be proactive and prevention focused. They create their gateway with the technology to analyze patterns and flag suspicious behaviour.
Leveraging cross-channel monitoring and data insights
Macropay performs cross-channel monitoring and uses data insights to fight scams and strengthen its payment gateway. Using data insights equips the company with information on current payment trends specific to each merchant. Thus, arming them with the tools to predict potential risks and determines the best course of action for any situation.
Businesses and the importance of fraud prevention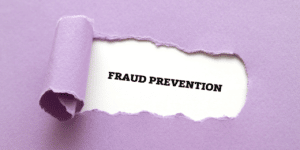 After individuals, small businesses suffer the most from online fraud. While personal online scams can easily be mitigation, however, failure to combat scams as a business can impact a company way beyond revenue lost.
Here are some of the ways businesses can suffer from the lack of fraud prevention protocols:
Financial losses
One of the primary negative effects of online scams is financial losses for businesses. Scammers can use a variety of methods to defraud businesses, such as phishing emails, fake websites, and malware. These scams can result in businesses losing thousands or even millions of dollars.
Reputational damage
Another negative effect of online scams is reputational damage. When businesses are defrauded, it can damage their reputation and make it difficult for them to gain the trust of customers. This is especially true if the scam is widely publicized.
Increased security costs
Finally, online scams can also lead to increased security costs for businesses. In order to protect themselves from scammers, businesses may have to invest in additional security measures, such as anti-phishing software and employee training on how to identify and avoid scams.
Conclusion
Online businesses that are looking to protect their customers should consider onboarding a payment gateway. Payment gateways help online businesses by encrypting customer data and providing fraud detection tools. Macropay is a leading payment gateway that offers these services and more. Businesses can get in touch through support@macropay.net to get started.