Motoring: Wiesmann Thunderball
From a little-known Teutonic carmaker of high-end machines that look 'older' than they are, states Iain Robertson, emerges the first all-electric model that is as volt upright as any car for the future needs to be and it commemorates its UK inspiration by naming it 'Thunderball', which is no disgrace.
Formed in 1988, Wiesmann came to my attention, while I was on a mid-1990s Honda trip to the Black Forest area of southern Germany. I spotted what I thought was a misshapen Austin Healey replica in downtown Baden-Baden but, when I returned to take a closer inspection, I appreciated its finer form, painstakingly close shut-lines, deliciously high quality interior and, then, the exceptionally attractive lady, wearing headscarf and expensive sunglasses, who slipped into the driver's seat, revved its glorious sounding V8 engine and sped off along the avenue. To me, it was a modern take on the classical Sunbeam Tiger V8 speeding along Le Croisette. I became an immediate fan.
Its open-top styling is reminiscent of several 1950s' roadsters until you peer a little closer and realise that the metal bending skills of that period, while exemplary, are hardly a patch on the computer aided alternatives available today. While 'Healey-esque' probably misses the point, it is the shape of the cut lines, air intakes and even the roof aperture that highlight the skills of a more modern age, further underscored by the depth of the paint and that hand-wrought interior detailing that Germany's 'finest' exponents of the art of hide stitching dare to expedite. It is visually clinical, in a typically Germanic way, but is drivable in a modern thoroughbred manner.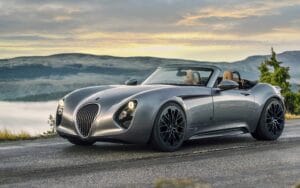 Established originally by the Wiesmann brothers, Martin and Friedhelm, in Dulmen, Munster,  it took a few years for hand production to ramp up but the firm was soon producing around 180 cars a year, all of which were based on BMW running gear. In fact, from inline sixes and V8s, to the almighty BMW V10, around 1,500 Wiesmann sportscars have earned a tremendous reputation among the cognoscienti for their blend of effortless performance and impeccable build quality. The English sportscar influence was always intentional and formed a vital element of the company's remit, along with a six-figure price tag (<£200,000), naturally. Mentioning the V10 reminds me of the gargantuan shove available from that 500bhp normally-aspirated lump, while the next generation 45bhp greater bi-turbo V8 replaced it, little could touch the light paper of that previous unit in bellowing aural terms. It could also blitz the 0-60mph dash in less than 3.0s, en route to a top whack of around 193mph and probably more (as an unrestricted BMW M5 could reach 208mph).
Renowned for their handling and roadholding capabilities, Wiesmann roadsters and coupes were said to stick like glue to the road, hence the gecko being used as the brand's corporate identity. Yet, it was a pity that the brothers had not stuck to their original plan and determined that a route to success, which involved certification for the North American market, would lead to their downfall. The company filed for bankruptcy in the late summer of 2013, a British consortium adding to the confusion by not effecting a promised rescue bid. In fact, just as the doors were about to close, British investor, Roheen Berry stepped up to the plate and the revived company was relaunched in 2020. It is under his auspices that the all-electric Thunderball is being launched.
While London-based, Mr Berry is of Malaysian extract and is CEO of CONTEC Global Energy, the family firm, he was educated in India, Nigeria and at Harvard. Although still a fairly young man, he is fascinated by the Wiesmann principles, even more so after his brother ordered and obtained an example and he has planned for a sustainable future for the brand and its products, while not deserting the high-end image it has already earned. Worringly, never short of passion, the automotive scene is littered with stop:start projects, where the company owners have promised much but delivered very little…take TVR as an example, a not dissimilar operation to Wiesmann in many ways, that has been through British and Russian hands, only to return to British ownership recently with endless delays for its new models.
The first Thunderball has already been allocated to its new owner, having been subject to a charity auction held in Monaco that raised over Euros700,000. Valued at around £220,000, existing Wiesmann customers are among the early adopters of the new car, its bespoke nature meaning that they are unlikely to receive them until early-autumn.