123Swap one of the fastest-growing decentralized finance ecosystems; integration update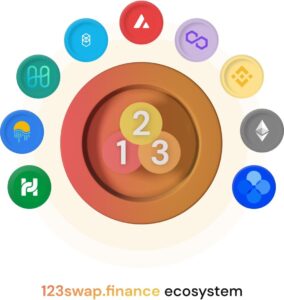 123Swap is a decentralized financial ecosystem that grows rapidly by adding a new blockchain every week. The exchange platform aims to provide accessible, transparent, and affordable cryptocurrencies to users around the world and generate as little slippage as possible. The 123swap protocol works on Ethereum, Binance Smart Chain, Polygon, and Avalanche and needs to be further extended and brought closer to the goals of providing a one-stop-shop platform for all blockchains.
Theta:
Theta Network is the first blockchain-based video distribution network. Theta allows users to view video content simultaneously, earning token incentives to deliver video to other users viewing the same content. In the same way as other sharing economy models, users can allocate free bandwidth and computer resources to stream videos to other users and can receive token incentives for their contributions. Contributions to the Theta Network can be made from any computer, mobile device, or smart TV.
The integration of theta in the video platform video delivery stack helps reduce video delivery costs, increases audience engagement, and generates additional revenue.
Harmony:
Harmony is a blockchain platform that aims to simplify the development and implementation of decentralized applications (DApps). By focusing on random state fragmentation, which enables the creation of blocks in seconds, the network aims to tell how decentralized applications work.
Harmony is expected to introduce cross-shard contracts and cross-chain infrastructure by the end of 2021.
Houbi ECO:
The Huobi ECO is the ecosystem of the Huobi Group which is based on the trading activity with HT as its token and invests and works in the blockchain industry upstream and downstream. The main goal of Huobi Eco is to promote collaboration and maximum growth in the global blockchain sector.
KCC:
The KCC is an efficient decentralized public chain. Its purpose is to address issues such as poor performance and excessive cost in public chains in order to provide members of the public with a faster, more comfortable, and cost-effective experience. KCC is fully interoperable with Ethereum and ERC-20 smart contracts and has extremely minimal migration costs. The Ku-Coin Token (KCS) is a native KCC token and can be used to pay gas fees.
Ontology:
Ontology is a high-performance, open-source blockchain that focuses on identity and digital data. The unique ontology infrastructure allows for strong cross-chain interaction and layer 2 scalability, giving companies the freedom to build blockchains that meet their specific needs. Ontology features include ONT ID, an ecosystem-wide application that uses DID and mobile digital ID, and DDXF, a decentralized collaboration and data-sharing platform with a set of decentralized data sharing, data, and identity protocols to increase data speed, security, and trust.
Website — 123 swap Website
Twitter — https://twitter.com/123swapfinance
Telegram — https://t.me/my123swap_chat
Reddit — https://www.reddit.com/r/123swap/
Discord — https://discord.gg/arNbvrPgZx