BMW continues with a hyper four-pot engine in its latest M135iX
There exists an entire generation of drivers and racers that simply adores the harmonic balance of a punchy four-cylinder petrol engine, states Iain Robertson, which makes the latest BMW M135i, with Xdrive or not, eminently desirable.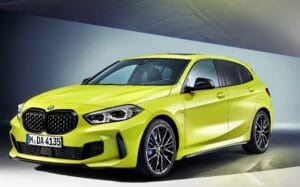 Brought up on a diet of good quality four-cylinder engines, the relative 'unbreakability' of a BMC A-Series, or 'unburstable' Ford Kent series, underpinned the early motoring exploits of an enormous chunk of the budding British motoring population. To those young drivers of the early-1970s, such units were affordable, readily serviceable and confidence inspiring, as their skills developed.
Naturally, things went wrong; cylinder head gaskets on Mini engines were a popular failure, as were dropped valves on an Escort. Yet, with a bit of help from a handy dad, who always warned about pushing a simple motor too far, a weekend repair job in the domestic driveway was another knowledge building exercise that cost only a few Pounds but would have you mobile momentarily.
Over the subsequent years, my fascination for 'four-pots' continued to grow, as I discovered the dynamic benefits of lighter weight on the nose of the car and the willing, lower inertia revviness of an engine that could adapt so readily to tuning potential. By the mid-1980s and the onslaught of the Japanese makes, while sophistication like twin overhead camshafts, multiple valves and fuel injection was starting to impact on the junior league of the performance segment, with cars like the Toyota Corolla GT, or Honda Civic CRX becoming desirable, we were becoming familiar with 8,000rpm limiters and peaky performance deliveries.
Yet, the allure of the compact four-cylinder power unit (1.6 to 2.0-litre capacities) was immense, even with increased mechanical complexity. A perfect firing order and a sweetly tuned exhaust system, allied to 124bhp, then 150bhp, 180bhp and a notional limit of around 200bhp became par for the burgeoning hot hatch market. Although early resistance to turbocharging, a means of forced induction that could boost power levels to new and more cost-efficient levels, was much in evidence, improvements in delivery that removed any lag between driver's right foot and getting the power to the road soon raised its potential.
While a yowling injected engine was soon supplanted by a popping turbo unit, greater accessibility and 300bhp were no longer the stuff of dreams. For BMW and its characterful 1-Series, the 135i was an early six-cylinder transplant from the 3-Series that endured for a short time. However, its greater reciprocating mass (two extra cylinders and associated hardware), before even contemplating the extra nose weight, could become off-putting. While BMW is the master of near-perfect 50:50 weight distribution in its models, its M-department engineers recognised that a zestier four-cylinder unit would be preferable.
With a promised 306bhp from its 2.0-litre capacity, the latest M135iX becomes the champion of the notional hot hatch arena. Of course, it is a 'boy-racer' descript that is frowned on by insurers, upholders of motoring law and the anti-car brigade, in complete contrast with Volkswagen's inimitable GTi, which seems to have evaded criticism throughout much of its existence. Naturally, it is a significantly more sophisticated package that relies on the stability enhancing safety of four-wheel-drive (the 'X' part), even though the BMW system has been engineered to enable enjoyable playtime, when desired.
Crack open the bonnet and the driver is greeted by a large, BMW emblazoned plastic shroud that is intended to discourage the sometime DIY/home mechanic, unlike the open space in early Escorts and Astras. The layout is pure Mini, which is front-driven and transversely mounted, albeit with a power take-off to the rear axle. However, the zesty spirit is much in evidence, although it is more electronically enhanced than ever, complete with 'noise symposer' to play the engine note through the car's stereo speakers (to comply with drive-by exterior noise regulations).
To meet exhaust emissions requirements, drive is taken through an eight-speed automatic transmission, with paddles mounted on the steering wheel cross-spokes. Around 177g/km of CO2 but a healthy 38.7mpg point at efficiency gains, even though the performance is a bristling 0-60mph in around 4.9s, topping out at a cool 155mph. It is eminently accessible power, the high-spin turbocharger reacting to driver input with instancy, enabling the trough of mid-range torque to deliver of its best.
Although BMW denies its owners speciously from indulging in on-track derring-do, it remains keen to highlight the track developed damper and spring rates (as it does for all of its cars), which have been re-honed for this hot hatch. Stronger and less compliant engine mountings reduce extraneous movement of the hardware, which has the effect of making the M135iX's overall handling and roadholding as crisp as any M-car can be.
The front wheel camber angles of the BMW M135i xDrive have been increased to optimise absorption of lateral forces, when powering through corners. A new hydromount has been used additionally to attach the front suspension wishbones, while the mounts for the trailing and control arms on the rear axle have also been redesigned. At the same time, the spring and damping systems have undergone thorough recalibration. The result is a significant improvement in roll behaviour in corners, which has a further beneficial effect on steering feel, when the car's sporting agility is put to the test.
This latest raft of modifications reinforces the commitment of the M135ix to deliver BMW's hallmark driving pleasure. Its chassis technology combines with the engine's exceptionally sporty performance characteristics and the intelligent all-wheel drive to create a flawlessly composed overall package for a richly engaging drive. The compact BMW M model comes as standard with wheel slip limitation integrated into the engine control unit. The resultant shortening of the signal paths allows traction to be controlled up to ten times faster than with conventional systems, when pulling away, on slippery surfaces and during dynamic cornering. The BMW M135i xDrive benefits additionally from a mechanical limited-slip differential on the front axle.
For as long as it is able, BMW is determined to provide levels of driveability that an electrified future will remove from its models. Working on the basis of pure driver enjoyment, the M135iX becomes the doyen of the hot hatch scene.