Invoice finance in the UK supports 14% of UK GDP and it's a people business
In its 25th Receivables review of the UK invoice finance sector, Business Money has established, beyond any doubt, that when seeking working capital finance, business owners want to talk to an adviser.
Group editor, Robert Lefroy, a former business banker, commented: "The Business Money Intermediary Index keeps finance houses on their toes as experienced commercial finance brokers report on how invoice financiers:
Handle the initial proposal
Manage the, often challenging, appraisal process
Care for the client, post completion, and the ongoing relationship
Business Money polled introducers' opinions on 47, UK based, providers of invoice finance and 19 invoice finance houses demonstrated their abundant all-round quality and accumulated qualifying scores.
Advantedge Commercial Finance and Time Finance tied in first position with Close Invoice Finance in third place"
Business Money Receivables 2021 Intermediary Index (not compiled in 2020)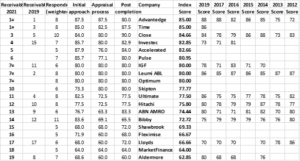 Intermediary Index weighted scores    60+ = Good.  80+ = Very Good
Business Money also enquired of a representative selection of high-volume invoice finance houses where their new business originated:
Business finance broker                 62%
Accountancy professionals             11%
Internet                                               4%
Existing customers                          9%
Direct telesales                                 5%
Own personnel                                 5%
Other                                                  4%
Norman Chambers, MD of the National Association of Commercial Finance Brokers commented: "The NACFB liaises closely with Business Money: our nationwide membership is highly professional and works with finance houses and other professionals to deliver carefully tailored solutions for businesses finance needs.
We operate under a strict Code of Practice and Business Money's Intermediary Index, launched in 2012, monitors the services provided by invoice financiers to our members and their clients. Last year our members sourced £41bn of new finance facilities of which invoice finance played a substantial part.
As the Business Money report shows, our members monitor a lender's ongoing service, well after the deal has been completed. Relationships are paramount in commercial finance."
Contacts:
Business Money: Robert Lefroy  +44 (0)7785 323109 lefroy@business-money.com
Sophie Grove  +44 (0)7966 529569 sophie@business-money.com
NACFB: Norman Chambers +44 (0)7771 359253  norman.chambers@nacfb.org.uk
Notes.
Business Money Receivables polling undertaken between January and March 2022.
Business Money, launched in 1993, is the industry journal in commercial finance and banking. It is available in print and digitally in the UK and digitally in 90 nations that look to the UK as a world leader in product innovation and software support.
The National Association of Commercial Finance Brokers launched in 1992 and is a member of the Business Finance Council.