Laing O'Rourke tops league with HS2 Interchange job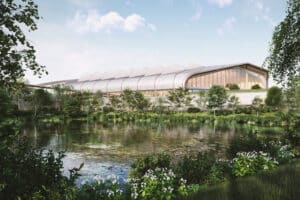 Laing O'Rourke's £370m job to build HS2's Birmingham Interchange propelled it to the top of the July league table.
The contract to build the last of HS2's stations took Laing O'Rourke nearly £150m ahead of its nearest competitor, according to data gathered by construction intelligence provider Glenigan.
Laing O'Rourke will design and build the 150-hectare station in Solihull (pictured), and expects to begin work next year.
Contracts for the three other stations at Euston (London), Curzon Street (Birmingham) and Old Oak Common (London) have already been awarded.
Once finished, Interchange station will serve up to five trains an hour in each direction. This is equal to about 175,000 seats a day, according to HS2.
The Interchange contract was one of two claimed by Laing O'Rourke during the month. In total, it brought in £395m worth of work.
Top 10 contractors, July 2022
Rank
Contractor
No
Total (£m)
1
Laing O'Rourke
2
395.0
2
McAleer & Rushe
1
250.0
3
Morgan Sindall
37
242.2
4
Kier
23
239.8
5
Lendlease
1
200.0
6
Vinci
3
140.5
7
Buckingham
2
137.5
8
Willmott Dixon
15
134.6
9
McLaren
3
83.2
10
Royal Bam
3
81.9
League tables are subject to revision
McAleer & Rushe clinched second spot in the July table, off the back of a single contract, which saw the contractor agree to build the £250m 61-65 Holborn Viaduct scheme. This helped it to clinch its second-best league performance of all time.
The site is being redeveloped into 12 storeys of student accommodation plus two basement levels of cultural space. More than 640 student rooms will be built, alongside performance and lecture theatres, and a rooftop terrace. Completion is expected in the third quarter of 2036.
Morgan Sindall keeps its bronze medal position for the third month in a row, largely thanks to a £70m office refurbishment job for Capital International at 1 Paddington Square in London.
The contractor will lead the job to refurbish part of the site into offices, according to Glenigan. The whole block, which is 16 storeys high, will also contain bars and restaurants on the rooftop, and retail on the lower and underground floors.
Morgan Sindall's work will cover 437,000 square feet of office space in total.
Lendlease also had a good month, moving back into the top 10. Its jump into fifth place was purely based on a £200m job it scooped to convert the former Debenhams store on London's Oxford Street into retail and office space, according to Glenigan.
Buckingham, meanwhile, steals into seventh place after it secured a £100m job on the second phase of the Copr Bay commercial and residential scheme in Swansea. It also led the first phase of the scheme, which saw a 3,500-capacity arena open in the city, a new bridge and 33 affordable homes.
The second phase will add additional homes to the site, as well as office, leisure and retail space.
Morgan Sindall meanwhile continues its dominance at the top of the annual leagues. It scored 361 contracts in the past year, worth a combined £2.34bn. But, second-placed Kier closed the gap on the leader to less than £100m.
Top 10 contractors, year to July 2022
Rank
Contractor
No
Total (£m)
1
Morgan Sindall
361
2,343.2
2
Kier
201
2,256.8
3
Wates
50
1,474.9
4
Winvic
40
1,462.7
5
ISG
85
1,426.7
6
Laing O'Rourke
12
1,268.7
7
Royal Bam
62
1,211.4
8
Mace
19
1,051.0
9
Graham
41
1,046.6
10
VolkerWessels
59
1,035.2
League tables are subject to revision
Wates moves up two spots into third place, with ISG rising into fifth after taking the sixth spot last time out. Laing O'Rourke also steps back into the the top 10, coming in sixth after a month interval.
Mace rose to eighth position in the annual league table, after finishing tenth last time around. Meanwhile, VolkerWessels takes the final position in the top 10 after a month out.