Loftier BMW aims to knock Porsche off its perch
Admitting that he feels sympathy for Bavaria's finest, Iain Robertson is conscious of its ongoing battle with Zuffenhausen's rear-engined prowess and its inherent 'imbalances' that make Bimmer's 50:50 perfection somewhat passe, the latest coupe, sport and lightweight version of the lumpy M4 promises greater focus.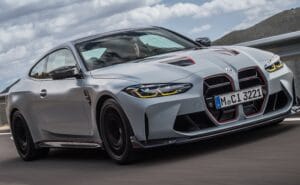 Normally polarised in almost all respects, the German carmakers are notoriously unified in terms of automotive safety, sustainability and product offerings. Yet, at the extremes of their wondrously manicured digits are examples of what are fast becoming electro-mechanical dinosaurs for a fast-diminishing audience of last gasp petrol guzzlers. Of a reported 1,000 examples of the £128k M4 CSL, BMW is reserving a mere 100 for the UK market, in recognition of that prior statement, even though it is a smattering greater availability than rarer former versions of the hand-assembled coupe produced since the E46 model set the ball rolling. However, where BMW continues to come unstuck lies in its desire to edge Porsche from its edgier reputation…but failing due to its king-like inherent, front-engine, rear-drive stability.
Porsche cannot help it. Its rear-engined models are inherently unstable, with a potentially pendulous mass of engine and transmission slung out behind the rear wheels. Given an injudicious pilot, grass-cutting, ditch-finding and hedgerow-seeking are its stock-in-trade and that's with the electronically nannied basic versions. Enter the realms of the GT3 and its signficantly sporting variants are technologically gifted but have the manners of a guttersnipe, when indulging in exertions on the limit, or the 'ragged edge', as Murray Walker may have put it (may he RIP). Hanging the arse out at junctions, on roundabouts and even damp straight road acceleration tests can be fun but need a degree of talent to get it back into a semblance of order before the uniforms spot you. No such shenanigans with the CSL, although they are eminently feasible with a heavy enough application of the right foot (fortunately, the one that I retain).
Of course, BMW has a reputation to maintain with its lightweight models, having been one of the first of the major players to throw its hat into the carbon-fibre ring, thus bonnet, bootlid, seats, a lot of interior trim and the roof panel have been moulded judiciously from a fresh weave, while the extensive applications of magnesium and other light alloys include the suspension, wheels and the double-crossbrace structure between the front suspension turrets. While the M4 is always going to be a chunky thing (1,625kgs), it is an earnest attempt to shed bulk from areas it does not need it, even though sound deadening and refinement are forced in a not unpleasant manner to take a back seat, the variable intensity, titanium exhaust system ensuring that nobody in close proximity will be in any doubt as to this car's sporting pedigree. Mind you, saving 4kg from the former radiator grille structure may have been a tad previous, as it appears to give the front-end a toothless look that is far from deserved. On the mildly irritating front, some very 1980s' red highlighting gifts CSL with a Halfords' 'go faster' malarkey that it really does not need.
Engine modifications for the latest BMW M4 CSL contribute to a maximum power output of 542bhp, when the rev counter hits 6,250rpm, which is an increase of 40bhp over the BMW M4 Competition Coupe, with a peak torque figure of 650Nm on tap from just 2,750rpm but sustained all the way up to 5,950rpm. Both are an example of how a twin-turbocharged 'six' does not require sky-high engine speeds for superb performance figures and the bespoke engine mounting and rigorous application of lightweight design principles ensure the CSL achieves an even bigger gain in dynamic prowess than the extra dose of M power would suggest. It is enough for a restricted top whack of 190mph and the accelerative capability to despatch the 0-60mph benchmark in around 3.3s, quick by anyone's reckoning and accompanied by 200g/km CO2 rating and up to 28.0mpg potential, to further underscore the package's efficiency.
Yet, if the engine is impressive, the eight-speed M Steptronic transmission with Drivelogic featuring ratio spacing attuned to the engine's characteristics and an extremely sharp shift action is a guaranteed sock-blower. Each gear change is communicated to the driver clearly, even when the transmission is operating in automated mode. Manual shifts with sequential gear selection can be performed using either the selector lever, or the carbon-fibre shift paddles. Multiple downshifts to the lowest available gear can be executed in manual mode by pulling the left shift paddle, while mashing the throttle pedal to the floor. Interestingly, the M Steptronic system does not force upshifts under acceleration in manual mode, even when the unit's revs hit the limiter. In automated mode, automatic engine blipping reduces engine braking when downshifting but the driver can also use the Drivelogic button integrated into the selector lever to alter the shift characteristics with a choice of three clearly distinguishable modes, including a special track-optimised setting, for those owners daft enough to take to the circuits with their expensive toys.
Naturally, many of these aspects can also be attributed to the legendary 911 that can boast every ounce as much tech as its BMW rival…although the driver has to work considerably harder to achieve similar results. Of course, the aeons old argument about sheer driveability and thrills resides firmly in the Porsche camp, although scares is a more truthful description, as the Armco beckons, the suspension compresses and the steering lock stops are reached. In many respects, the bare bones raciness (no rear seats, just a carpeted box for a pair of helmets) displayed with a 'less is more' shamelessness, is part of the roll-cage cramped appeal that several carmakers have leapt to, albeit with limited numbers authenticity. Live with that and you could be as satisfied as the crud-covered pig. If you cannot, the Competition version is not much slower but a lot less expensive.
Restricting available models for sale ensures that the manufacturers are not left out of pocket with their more enticing offerings. Whether you opt for the 911 GT3, or the M4 CSL, you are entering the stratosphere of racecar-for-the-road, which is kind of special but also very demanding, an aspect worth reflecting on.