Mazda creates the petrol car that obviates a need for a diesel one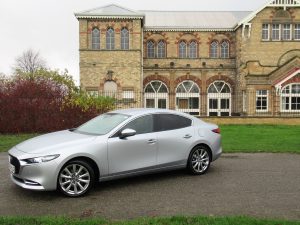 Skyactiv-X engine technology, a Mazda self-funded and engineered solution to real world fuel economy needs, powers the GT Sport saloon version of the Mazda3 hatchback, a model that impressed Iain Robertson immensely earlier this year.
You may recall that I drove the latest, swoopiest version of the Mazda3 in mid-May past. I recall it, because it was also my birthday, which I celebrated with very close friends in Scotland over that weekend, which also happened conveniently to be the location for the Mazda launch exercise.
Driving on roads with which I am broadly familiar helped with my understanding of the new hatchback model. However, the driving route took in a substantial loop of the Scottish Lowlands and border country, which also happens to provide some of the most scenic and challenging drivers' roads in the UK. The new 3 behaved impeccably. Taut handling, solid build quality and an 'adequate' amount of power in either Skyactiv-G 2.0-litre non-turbo-petrol form, or the optional 1.8-litre turbodiesel, provided an entertaining cocktail.
Yet, despite the excellence of the product, power outputs of around 119, or 113bhp respectively give off a whiff of stolidity, rather than vibrancy, which is most unfortunate, especially when promoting its cars to a new audience. Potential buyers looking beyond the reflectively handsome design of the car are not exactly enthused by such meagre power outputs, regardless of how well Mazda deploys them. This can and does affect overall sales figures.
Yet, while the Mazda brand may not be as mainstream popular as some of its perceived rivals, it harbours a wealth of technical integrity of which few others can boast. There is no getting away from the fact that Mazda is a hugely respected and respectable manufacturer that has seldom performed to convention and, more often than not, exceeds expectations by a country-mile. However, it demands deeper digging.
Many of the company's market-leading developments, such as body-in-white weight reductions, aerodynamic performance and build quality enhancements have maintained its market buoyancy, even though they turn its customers into cognoscenti…people 'in the know'. However, its most recent Skyactiv engineering practices have earned it considerable and justifiable renown. Skyactiv-X is the latest development and possibly the most ground-breaking of them all.
The concept of applying aspects of diesel technology (exemplified by an engine compression ratio of 16.3:1) to a 2.0-litre capacity, non-turbo, petrol engine has led to a remarkable tally of figures: 177bhp, 165lbs ft of torque at 3,000rpm, a 7,000rpm rev-limit, 0-60mph in 8.6s, a top speed of 131mph and a lowly 109g/km of CO2 for a more tax-friendly ownership proposition. Yet, it is the readily achievable 53.3mpg (6-speed manual gearbox) that confirms the aim of attaining diesel frugality that will be of significant benefit to all users, whether private, or business user-choosers.
It has been a while since I last drove a Mazda saloon and, even though this is a 3 model (4.6m length) that contains a most useful 444-litres boot capacity (before flipping forwards the back seats for even more carrying space), its eye-catching lines (identical to the hatchback version from the windscreen forwards) and elegant profile are of a class higher than its £27,575 price tag suggests. Be under no allusion, Mazda is every bit as good as an Audi A3 saloon, which is also costlier.
Cabin access is good, although the driver's compartment can feel a little cocooned, as a result of centre console width and limited steering column range (height) adjustability, not aided by my two metres of height. Unfortunately, on a drive from Lincoln to Lowestoft (and back) I suffered a degree of bottom and back ache that I had not experienced in the hatchback version, despite a moderate range of seat adjustment, which may be a design issue related to a perceived need to provide a decent space in the rear seats. It is a common fault and not restricted to Mazda.
The cabin is beautifully trimmed and detailed, with a lovely soft-touch tactility to several surfaces, the subtle use of metallised trim and Piano Black finishes, all provide exceptional visual appeal. The partially electronic instrument display is configurable, using the steering wheel-located micro-switches, and presents with first-rate clarity. The 8.0-inch digital screen (not of the 'touch' variety) is operated logically via a knurled, hand accessible dial in the centre console that controls both in-car entertainment (that includes a CD slot!), connectability, sat-nav and vehicle information. Every switch, or dial, operates with high-quality fluency.
The Mazda3's drivability is aided by electronic chassis vectoring and a blend of superb braking, fluent clutch operation and the most deliciously direct and accurate power steering. The manual gearshift lever is chubby but crisp in selection and the car's overall handling characteristics are firm but comfortable, with well controlled body movement. It feels sporty enough to warrant its trim level but fluid enough for mile-eating purposes. Naturally, a full suite of electronic driver aids is provided, most of which (fortunately) can have their default functions switched off!
However, the star of the show is the 177bhp Skyactiv-X petrol engine. It is useful to know that it is available in the hatchback Mazda3 as well, where I believe it should work with tremendous efficacy. For what it is worth, the saloon removes the over-the-shoulder blind-spots created by its design stance and that are present annoyingly on the hatchback model. The old 'litmus test', of whether, or not I would desire a Mazda3 in my motoring life should be abundantly clear. I like the saloon but I love the hatchback!
The Mazda3 saloon is a handsome and agile performer that is powered by a truly remarkable engine that combines petrol and diesel technology. I shall eat my hat, if it does not win the annual 'Engine of the Year' award.