New Kia Sportage illustrates the Korean carmaker's desire to change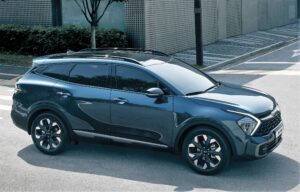 Moved to near hysterical laughter by the marketing language exercised by Kia Motors, as it reveals its latest version of the Sportage, Iain Robertson figured that he ought to paraphrase its 'deep, meaningful and largely nonsensical' messages.
"Known as 'Selfie-scrabbling', the fascinatingly novel surface design influence for the new Kia Sportage takes the modernity of virtue signalling and being woke into radically undiscovered and complex territory. From the pinched cleavage of its organically bosomed frontal aspect, past the BTM (Black Tyres Matter) juxtaposition of its uniquely black roof to the CAOAFM (Cow's Arse On A Frosty Morning) hatched rear, it yells aloud that design coherence is as welcome as acidosis. Its divisive new interior language ensures that being offended is of secondary import to being offensive."
Trust me, when I tell you that my admiration of Kia's important midfield SUV has grown through its various iterations from cute (1993), to take-it-or-leave-it (2004), to interested (2010) and fascinated (2015). The jury is still 'out' on the latest version that has now been 'sneak previewed', with more information set to arrive in due course, and the details of a 'European Sportage' to be released by September this year.
However, the accompanying marketing guff for the newcomer convinces me that somebody within Kia's HQ has not just swallowed a Roget's Thesaurus but is also prepared to bamboozle the motoring media (firstly), followed in close order (secondly) by its potential customers. Although some of those details will involve range pricing, you can take it for granted that a price hike is also very much in prospect. In a text peppered with terms like 'sophisticated', 'inspiring' and 'dramatic', the 28-year-old midfielder is leaving behind clearly its more rudimentary but stylish and affordable roots, despite Kia 'paying homage to its rich heritage'.
Take the following text as a conclusive example:
"Tense and crisp lines ripple along the refined body, amplifying dramatic styling tensions. At the same time, clean but muscular surfaces join forces with intricate graphics to give the SUV a dynamic and assertive road presence. On the inside, a space has been created that is truly state-of-the-art, fusing high-tech features into contemporary style."
What Kia is actually saying is that the original and eye-catching style of the current model is being neutralised by a confusion of design uncertainty, with as much extra ADAS (electronic driver aids) thrown into the mix as can be mustered. Sadly, it does not stop there, as the amount of self-belief expressed by Karim Habib, Kia's senior vice-president and head of global design centre, seems to know no boundaries. With the newcomer, he believes that all of the company's goals have been met and that a fresh benchmark has been established for the class.
Sorry, Mr Habib, but the clarity and timeless style purity of the current Sportage has been ditched in favour of a larger, visually challenging and, if anything, a more Japanese and, hence, uncontrolled style stance, which loses the Euro-Korean character for which Kia has become renowned, perhaps even revered. It is clearly a car that will look better externally in darker colours that will serve to conceal some of the oddball reflections occurring on lighter coloured versions but, in the process, it sheds its identity.
Kia's new design philosophy is called 'Opposites United', which the firm suggests is at the core of the all-new Sportage, influencing every aspect of its appearance and character. The principles of 'Opposites United', a descriptive title that almost defies definition, are said to influence all future Kia designs, to provide them with the same basic DNA. If that is not confusing enough, the 'thought-provoking and daring philosophy' is said to add strength to the connection between design and Kia's new brand direction, which operates under the handle of 'Movement that Inspires'.
If one aspect has inspired more than the rest throughout Kia's fairly youthful past it has been a directness of language. The company has always presented a clarity of purpose, even during its early relationship with Mazda and Ford Motor Company, through to being 'rescued' by Hyundai, following the collapse of the too rapidly growing South Korean economy in 1997/98. Its commercial success in the UK has arisen from highly judicious brand management, led firstly by Michael Cole and latterly by Paul Philpott, taking annual UK turnover to in excess of 100,000 units.
My gravest fear for Kia is that 'Opposites United' will lead to a directional shift that will cost it dearly. Taken literally, it could mean that affordable becomes unaffordable, attractive morphs into unattractive and clarity becomes confusion, all opposites that a 'new order' hopes to unite under its revised banner, which could become ununitable without much effort. In fact, the result could be a major turn-off for existing customers. If Kia intends to change its brand image from pleasing to aggressive, I contend that there are better ways. In fact, the Skoda marketing model, despite early alienation of its budget-orientated stance, has proven beyond doubt that being upwardly mobile can produce exceptionally positive results. Its customer base has grown with the brand. Kia has already grown its brand but now risks losing its advantage.
As the marketing message concludes: "For the first time in the Sportage's history, a bolder model has been designed specifically to convey a more confident, vigorous and versatile character. The all-new Sportage X-Line features an unique bumper, side sill and curved roof rack. On the inside, customers can choose between a signature sage green, or black seating, as well as bold quilting and black metal wood to further bring to life the model's confident persona".
Judge for yourself from the limited imagery of the all-new Sportage, whether Kia is headed for a hiding, or introducing something innovative to its brand cocktail. I remain unconvinced (for the moment), although a planned future driving exercise may alter my view slightly.