Ponteland post office in Newcastle Upon Tyne sold through Christie and Co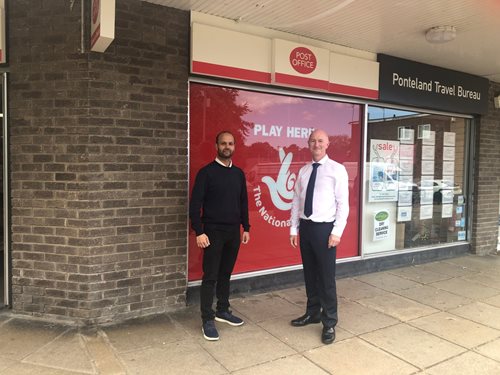 The business comprises a post office, travel agency and a newsagent, all of which are staff run. It boasts a high turnover, most of which comes from its travel agency services and post office transactions, with additional trade from sales of a range of gifts, greetings cards and stationery. The property also includes an office, a small storeroom and a two bedroom flat on the first floor.
The post office is located in a shopping precinct in Ponteland, a sought after and affluent village near Newcastle upon Tyne. It sits alongside a variety of other complementary shops and offices which contribute to its healthy footfall. A few years ago, the business was relocated from a smaller unit in the same parade and, in 2013, saw a complete modern re-fit throughout.
The business was purchased through Christie & Co by Mr Geoff Huggin in 2008. Mr Huggin decided to sell to pursue other commitments overseas.
Ponteland post office has been purchased by Mr Asad Ali, who comments, "I am very happy to have completed on this great post office. My plan is for all current staff to be retained and to improve on the business's retail offering, adding more variety to what is already available. We also look forward to booking holidays for our customers, as there are some great deals to be had this summer and next."
Andrew Birnie, director of retail at Christie & Co, who handled the sale, comments, "Another great example of a sale during Covid-19 in the retail sector. This deal was agreed pre Covid-19, we have been lucky in our specialist area of retail in that buyers have not pulled out. In fact, demand has increased dramatically due to these businesses remaining open throughout the pandemic and that turnover has increased due to changing shopping habits. Our client wanted to retire to live abroad.
Mr Ali has many years' experience running convenience stores and a smaller post office. A feature of the business new to Mr Ali is the travel bureau which is run by experienced staff. There is space in the retail area to add new products and services, Mr Ali has plans and we look forward to seeing changes in the future."
Ponteland post office was sold off an asking price of £70,000.