Start Up Loans delivers £350m worth of funding to female founders
Female Loan Recipients
UK Region
Loans Made
Amount Lent (£)
East Midlands
2,303
19,681,275
East of England
2,892
25,651,607
Isle of Man
2
7,500
London
8,825
74,405,317
North East
2,147
18,450,905
North West
4,896
41,353,724
Northern Ireland
571
4,824,639
Scotland
2,538
20,942,414
South East
4,058
38,783,534
South West
3,459
29,883,673
Wales
1,666
15,555,182
West Midlands
3,302
28,837,973
Yorkshire and The Humber
3,454
30,507,467
Region not obtained
237
2,541,169
Grand Total
40,350
351,426,380
*All data accurate through to January 31st 2023
Chantal Charles-Smith, founder of Laughing Llama Café, a family-friendly café and bistro in York.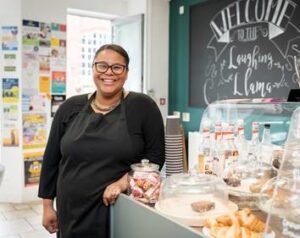 "As a mother of two small children, my main challenge has been balancing multiple responsibilities. From getting the children ready for school and packing lunch boxes to managing staff shortages and various deliveries, it's a juggling act that requires constant attention. I also need to remember non-uniform days and birthday parties, pay suppliers, and answer emails, all while keeping the business running smoothly.
"I have learned to prioritize my own well-being and take time for myself. As a business owner, I am my biggest asset, so it's essential to recharge and rest regularly. By doing so, I become more productive and better equipped to deal with the challenges of running a business and managing a lifestyle."
Bela Owoh, founder of Pacaiba, a hair care company for women with curly hair in London.
"Access to funding can be a major hurdle for women entrepreneurs. The lack of women investors can make it challenging to find support and gender bias can make it difficult to connect with male investors. However, with determination and the support of like-minded individuals, success is possible. I found a real community by attending free female networking events and connecting with other women founders who shared their experiences and offered precious advice along the way.
Chloe Bruce, founder of Chloe Bruce Academy, an online martial arts programme in Woking.
"As a female business owner in a male-dominated industry, I understand the challenges of being a minority. However, I've chosen to use my status as a source of empowerment, especially when it comes to encouraging aspiring female coaches and inspiring young girls to embrace martial arts. Although I face trolls on social media who attack my skills and abilities based on my gender, I don't let negativity hold me back. Instead, I channel it into determination to prove them wrong and focus on the positive impact I'm making."