The market corrects: prices cool as supply increases
The UK property market continues to show significant momentum, according to Home.co.uk's Asking Price Index for September.
Frothy valuations are being dialled back as the post-lockdown buying frenzy fades away. Stock levels are recovering in all regions except London, where renewed demand is gobbling up properties faster than agents can put them on the market.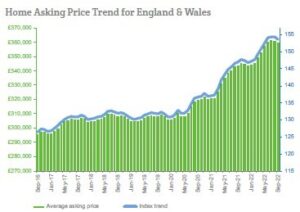 Higher nominal mortgage rates appear not to be deterring buyers and this is understandable when, owing to inflation, real mortgage lending rates are highly negative. Of course, real home price growth is also negative by a growing margin.
The property drought is over, and a greater sense of normalcy prevails. However, property continues to move through the market at an exceptional pace. The average time on the market for unsold property is now at the lowest it has been since the financial crisis of 2008 (144 days in England and Wales).
­­­Moreover, the turnover rate for properties passing through the market has recovered vastly from the low set in January when stock levels hit a record low.
This measure of the number of properties passing through the market per day, which may be regarded as the 'pulse of the market,' has nearly doubled since the January low of 1163 properties per day to the current rate of 2075. This latest measure is broadly approaching the longer-term average for the UK property market.