Time running out for £3bn tariff bombshell
In exactly three weeks, the UK's transition period will have ended and the UK will leave the EU customs union and single market. Without a deal in the next few days, supermarkets and their customers will face a £3.1bn tariff bombshell on food and drink. This can be avoided if the UK and EU agree a free trade deal.
The UK grocery sector is one of the most competitive in the world and operates on tight margins to offer customers the best value possible. However, without a deal, the increase in tariffs will leave retailers with nowhere to go other than to raise the price of food to mitigate these new costs.
Many non-food retailers will also face large tariff bills for EU-sourced products, meaning the total cost to UK retailers and their customers will be even higher. This includes clothes, ceramics and much more.
The EU is the UK's largest trading partner and the source of four-fifths of UK food imports. In May, the UK published its new tariff schedule, which will apply from 1 January 2021 if a deal is not agreed. Under the schedule, 85% of foods imported from the EU will face tariffs of more than 5%. The average tariff on food imported from the EU would be over 20%. This includes 48% on beef mince, 16% on cucumbers, 12% on oranges, 10% on lettuce, and 57% on cheddar cheese. Non-food items will also be impacted with items such as trousers and blouses being subject to 12% tariffs.
January also poses many challenges for seasonal produce, with a much higher proportion of fruits and vegetables imported from the EU relative to June. For example, the UK sources 85% of its tomatoes from the EU in January, falling to just 30% by June, during the UK growing season. Checks and delays at the border could result in some of these products reaching UK customers with a shorter shelf-life.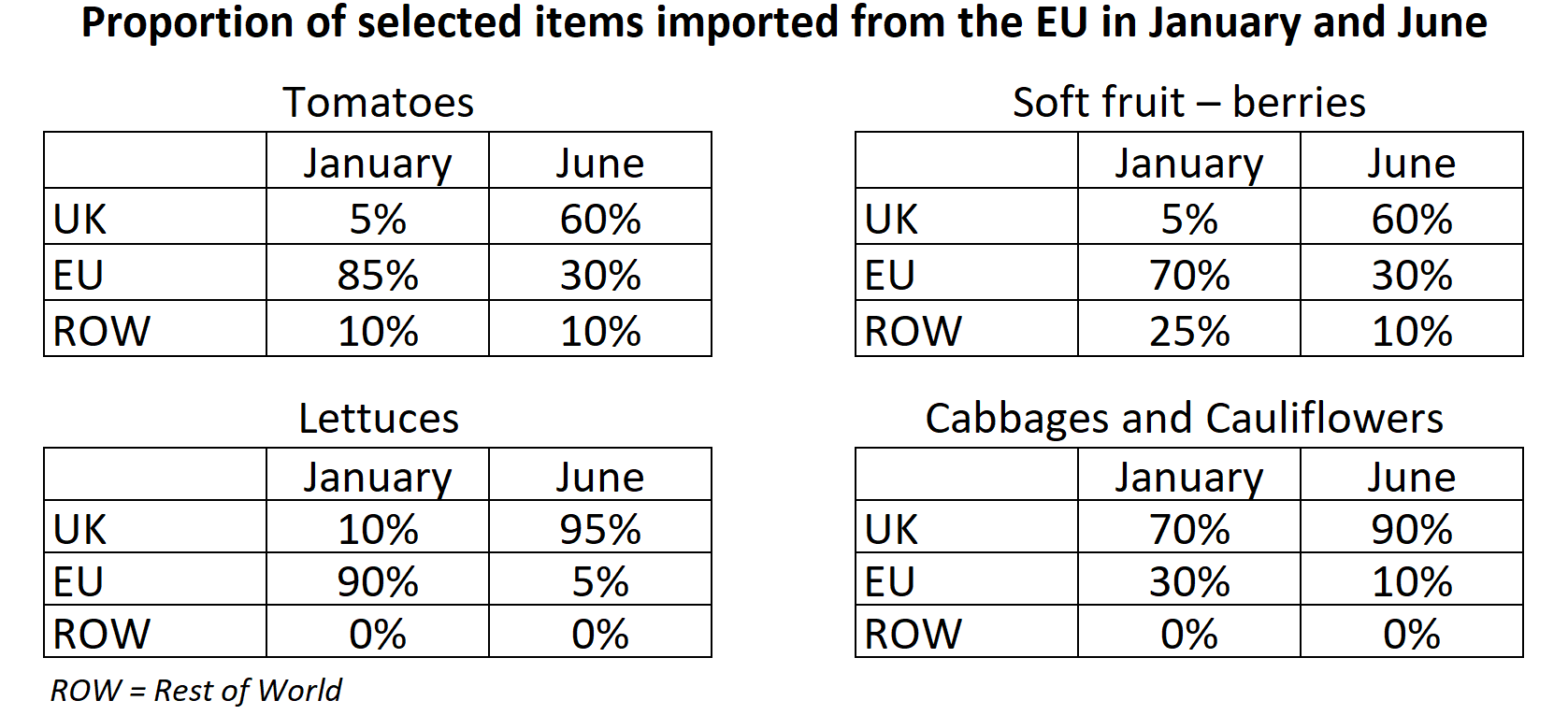 The British Retail Consortium (BRC) has long been calling for a zero-tariff zero-quota trade deal between the UK and EU under its "Fair Deal for Consumers" campaign. With coronavirus affecting the livelihoods of millions of people in the UK, many households can ill afford higher prices for their weekly food shop.
The BRC's July report, "Why Tariffs are Bad News for UK Consumers", explained that, given the highly competitive nature of retail, the industry cannot absorb all these increased costs, meaning the public would face higher prices from 1st January 2021. Furthermore, increases in physical checks, paperwork, and other non-tariff barriers will push up the cost for retailers even more.