Why a retail business should use palletised storage in Melbourne
You must have seen — either in real life or in movies – that a lot of companies use warehouses and palletised storage to store their stock.
Warehouse and palletised storage are only needed if you have a large business, right? Not quite. Small businesses, even online businesses, can benefit from using palletised storage.
Why? Keep scrolling and we'll share all we know about warehouse storage, palletised storage options, and how small, online, and large businesses can benefit from storage.
Warehouse storage/palletised storage explained
Warehouse storage or palletised storage is a storage system where business owners rent pallet space, pallet rack, or floor space to stock their products.
You can store all kinds of things in palletised storage, such as;
Office furniture
Merchandise
Trade inventory
Clothes and fabrics
Those are just some things you can store. You can also store other things related to your business.
Palletised storage options
Palletised storage can usually be divided into two options, which are;
● Standard palletised storage
Standard palletised storage is the most common type of palletised storage in Melbourne. With this package, you can rent a pallet, whole pallet rack, or floor space to store all that you need.
Only $1.10 per day, this service is cheaper and more organised than self-storage. Moreover, you won't have to transport your stock to the storage facility. You can just request the company to collect your stuff and store them.
● 3PL palletised storage
3PL palletised storage works exactly the same as standard palletised storage. The only difference is, once you store your product with 3PL storage, the company will pick, pack, and ship your product to your customers.
Therefore, if you have an online counterpart of your business, you won't have to worry about shipping.
These two options are the regular palletised storage options to choose from. However, storage companies usually have another storage option you can consider. That option is a private storage unit, where you rent the whole storage unit.
● Private storage unit
With a private storage unit, your things won't mingle with other people's. These storage units are made of quality steel, so they can protect your stuff from dust, moisture, and vermin.
The starting price for a private storage unit is $3.27 per day. A bit more expensive, but you have the option to get this unit delivered and stored on your business premises. So, it enables easier access to your stock at all times.
Other than that, all of these options will provide you with free protection to prevent damage to your things, like furniture blankets and custom tie-downs to secure your things.
How your business benefits from using palletised storage
This storage system has a lot of benefits for your business, time-wise and money-wise. Why?
Here's why;
Palletised storage frees up space in your business premises, so you can put other things you need more.
You can store anything related to your business, like stock, products, inventory, furniture, and more.
Almost 50% cheaper than self-storage facilities and can fit more than them.
No fixed contract, so you can store your stuff for as long as you need to.
Pay as much as you store, so only need a small space, you can pay less.
No confusion as to where certain things are stored. Everything is organised and labelled.
Protect your stock, products, or other stuff from wear and tear.
The storage facility is secure with 24/7 CCTV monitoring and alarm systems.
You have the option to ask the company to be your distributor.
No need to spend time delivering your stuff to the storage facility because the company can collect them.
Free protection items like tie-downs and furniture blankets to prevent damage.
Looking at this list, you can see that all businesses, including start-ups, small businesses, and large businesses can benefit from using palletised storage.
Conclusion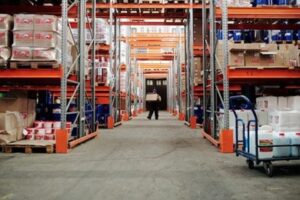 Palletised storage can be categorised into two, which are the standard and 3PL palletised storage. Both work the same way, but 3PL storage helps you distribute your product to customers.
Another option would be to rent a private storage unit. You can store the storage unit on your premises and have constant access to it. So, it will be like adding another room to your office.
All three of them are beneficial for small, online, and large businesses, as you can see from the long list of benefits above.
So, convinced that you need palletised storage already?